Ropes Course outing @ S-F Scout Ranch during the weekend of April 27, 2002. A fierce storm rolled through Sat night (tornado touch down about 30 miles south of S-F); absolutely perfect day for Sunday. Some of these pix are from the Barker's camera, and some from the Vinnedge's, and some from Debbie.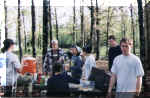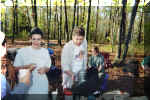 A quick breakfast before heading out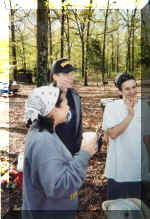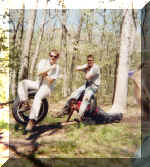 I'm not sure what the plan was here... At best it seems poorly conceived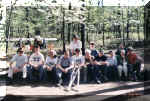 Group photo @ the high course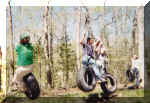 Monkees on the swings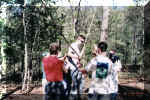 Chris negotiating the Slack wire event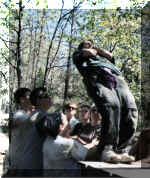 Mrs. Vinnedge - Trust Fall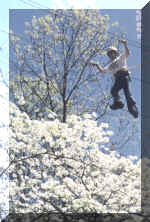 Jessie on the Moneky Bridge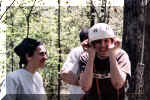 Debbie getting ready to go up, Emily's her ground buddy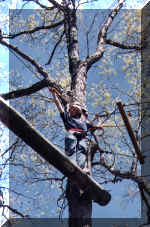 Greg hooking in on the utility pole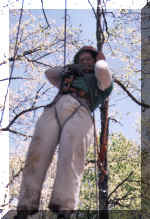 Bekka rappelling off the perch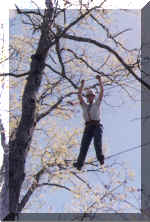 Emily on the Postman's Walk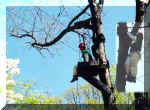 Bekka has grown fond of trees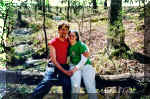 How picturesque!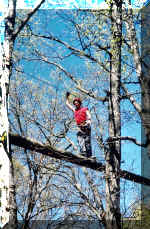 Corey isn't supposed to be touching that wire!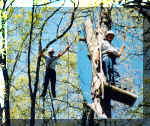 Emily looking strong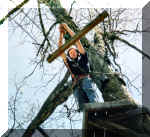 Greg has to reach for it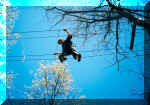 Go Julie, GO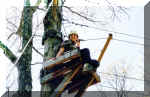 Debbie showing her 1000 watt smile